2022 Low Rider® El Diablo | Icon Collection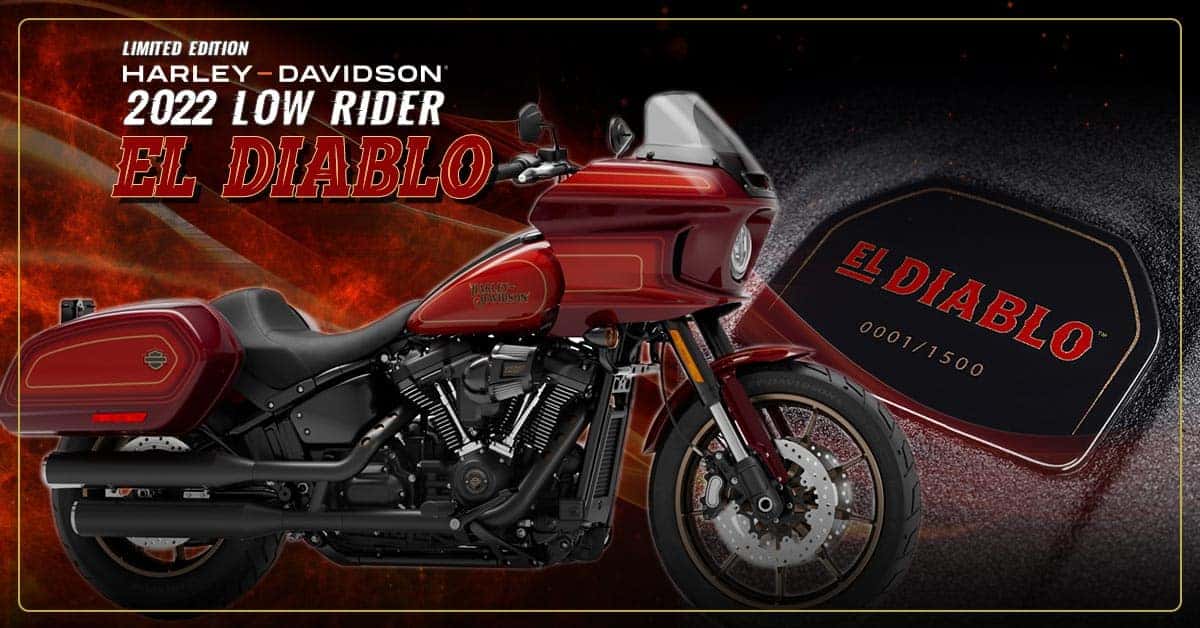 The Harley-Davidson Low Rider El Diablo is a show stopper, taking modern performance and blending it with classic styling, all in one iconic package.
COLOR: El Diablo Bright Red and El Diablo Dark Red Metallic Fade
LIMITED EDITION: Curated for this one-of-a-kind motorcycle, this bright red paint scheme is painstakingly hand-applied by master artisans. The El Diablo graphics theme features a custom Harley-Davidson script with "devil horns," center console El Diablo inset with individual numbered edition 1/1500 (actual number will vary by dealership), and the "Icons" collection graphic on the rear fender.
ACT FAST! EL DIABLO ICON will sellout WORLDWIDE quickly! 🔥🔥🔥
A modern expression of the iconic 1983 Harley-Davidson FXRT and representation of the custom movement it ignited that lives on to this day, the 2022 Low Rider El Diablo embodies the spirit of counterculture in Southern California in the '80s in a contemporary package that includes meticulously crafted custom paint and high-performance audio from Rockford Fosgate, each one individually serialized.
---
VIDEO: Harley-Davidson Low Rider EL DIABLO!
BLOCKHEAD YouTube Channel "2022 Harley-Davidson Low Rider EL DIABLO!"
---
THIS IS THE RIGHT BIKE FOR…
Fans of the FXRT and '80s SoCal styling
Riders looking for outrageous performance and the attitude to match
Those that appreciate craftsmanship and attention to detail in a highly exclusive, limited-edition bike Compare this bike
---
FEATURES
Milwaukee-Eight® 117 V-Twin
The new pinnacle of torque and displacement with a factory-installed powertrain. Precision oil/air cooling. 125 ft. lbs. of torque at 3500 RPM. Tuned heavy breather intake and high flow exhaust maximize engine performance, a boost you can feel with every twist of the throttle.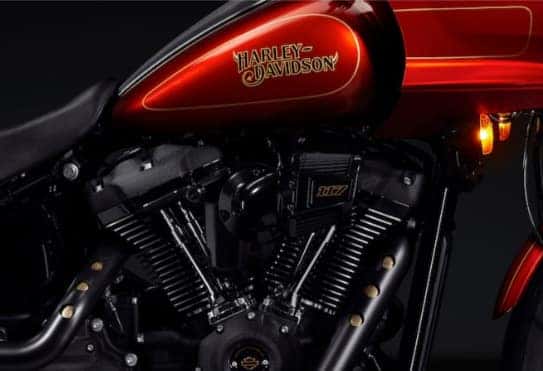 Harley-Davidson® Audio Powered by Rockford Fosgate
A high-performance motorcycle deserves high-output audio. A factory-installed kit on the Low Rider El Diablo, it offers outstanding performance and an ideal fit within the fairing. A powerful, intelligent amplifier with digital signal processing (DSP) technology, it is engineered to perform in the demanding motorcycle environment. Connects to a mobile device via Bluetooth to play stored or streaming audio through a pair of built-in two-way speakers.

Upright riding position, Performance-First Posture
Aggressive, performance-comes-first posture with a lifted rear suspension, high handlebars, and compact removable saddlebags, perfect for canyon carving.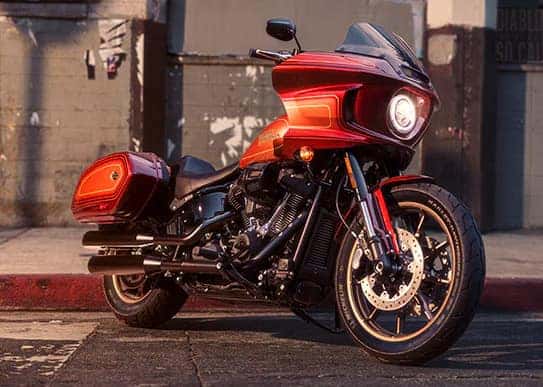 Frame Mounted Fairing
A modern take on the classic FXRT Sport Glide® fairing favored by West Coast customizers.
Custom Crafted Paint
A detailed paint scheme that begins with a base of El Diablo Bright Red and a second pass of Bright Red Sunglo followed by pinstriping and layers of El Diablo Dark Red and Dark Red Pearl faded around panel shapes for depth.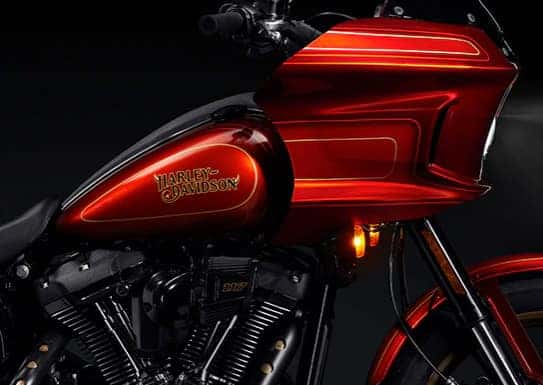 Pinstriping
A nod to the 1983 Harley-Davidson FXRT Sport Glide, pinstripes fade around panel shapes to add depth with Pale Gold pinstriping hand-applied within the El Diablo Bright Red panels.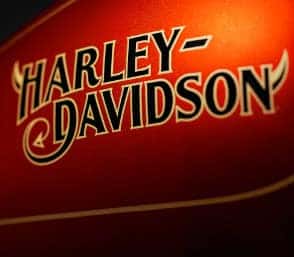 Mid-mount foot controls
Saddlebags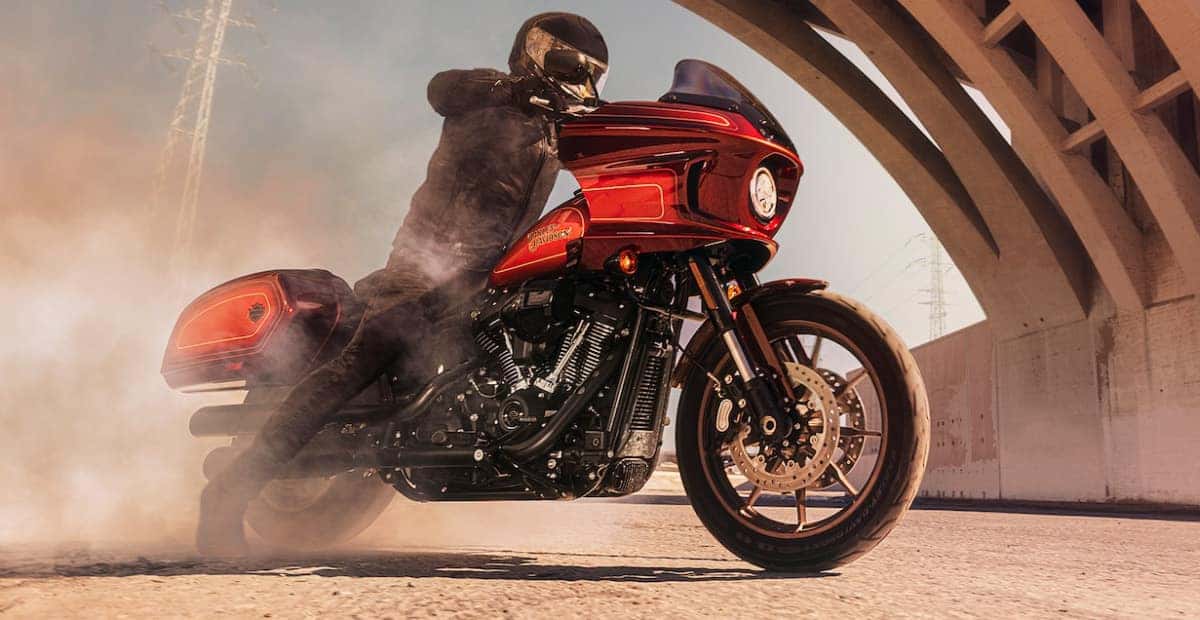 .
.
.
.
.
.
Request VIP Appointment: